Zoom Video Conferencing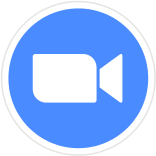 Zoom is a synchronous online collaboration tool that can be used to conduct and record online lectures, host office hours, set up group meeting spaces, and more—all with annotation and whiteboard capabilities.
NOTE:
Zoom is continuously updating its platform security and features. For the latest information, visit the
Zoom Help Center
at
support.zoom.us
Printable One-Sheets
Teaching Resources
Zoom Corporate Resources
Zoom and Moodle
See Zoom in action by enrolling yourself in our Zoom with Moodle course.

FACULTY TIP: Students who Zoom on a Chromebook do not have the Annotate option on shared screens. However, the remaining functionality is comparable to that on a computer or laptop... although the video/audio quality is somewhat diminished.
NOTE: For the latest information, review the device comparison chart.
FACULTY TIP: Be sure to log out of your Zoom account after use. If you sign into a duplicate device (such as a computer and laptop) you will be logged out automatically on the first device.