Faculty Menu
Zoom Video Conferencing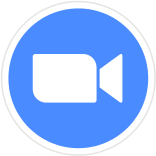 Zoom is a synchronous online collaboration tool which can be used to conduct and record online lectures, host office hours, set up group meeting spaces, and more—all with annotation and whiteboard capabilities.
NOTE: Zoom is continuously updating its platform security, so be sure to download the latest version when prompted.
Printable One-Sheets
New Resources
Zoom Corporate Resources
Zoom and Moodle
See Zoom in action by enrolling yourself in our Zoom with Moodle course.

FACULTY TIP: If your student is on a Chromebook and cannot access Zoom Breakout Room functionality, allow that student (and others) to use the main meeting room as their 'breakout' space.