Moodle Student FAQ
How do I find my course?
Log in to MyClackamas with your college-provided credentials.

If you have more than one CCC account, such as a student and a staff account, login with your staff credentials.
IF YOU HAVE MORE THAN ONE ROLE HERE AT CCC: Ensure you click either Faculty or Student.
If you only have a Staff profile and need access to Moodle, contact ITS and request that a Student or Faculty profile tab be added to your MyClackamas account.
Scroll down the page until you find the Departmental Contact Information. Below that you'll find a series of tabs; Forms will be selected by default. Click the Moodle tab.
A list of classes you are enrolled in will appear. Click on the course you wish to enter. Sometimes you may get an error message, if so, here's what you do.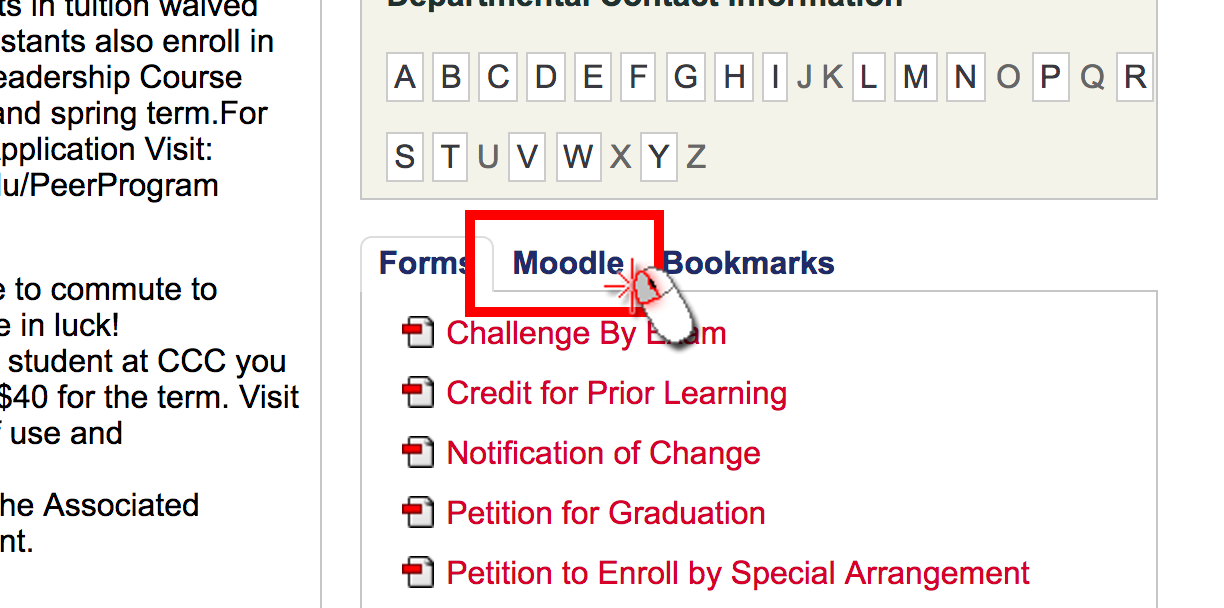 Access Moodle Directly

Sometimes when MyClackamas is unavailable you can still access Moodle via our backdoor of sorts.

To access Moodle directly:
Go directly to online.clackamas.edu
Locate the Login block on the right-side of the page.
For Username enter your MyClackamas username: This is the first part of your MyClackamas email. If your email is lastname.firstname@student.clackamas.edu you just enter lastname.firstname (or firstname.lastname)
For the Password enter your current MyClackamas password.
Click the Log in button.
Locate your User Menu in the top right corner and click Dashboard.
The Course Overview will display your courses in the Courses tab sorted by course start and end dates. Current courses will be listed in the In Progress tab. However, if you don't see your courses listed, be sure to check the Future and Past tabs too.